love. watched it two times in a row.
7:38 PM
A dazzling display of the musical world of the Roma, juxtaposed to the real world they live in. This rich feature documentary celebrates the luscious music of top international Gypsy performers and interweaves stirring real life tales of their home life and social background. Shot by documentary icon Albert Maysles, the film takes place on tour in Europe and in the USA during the Gypsy Caravan concert tour put on by WMI, as well as on location in Spain, Macedonia, Romania and India. Directed by Jasmine Dellal whose recent feature, AMERICAN GYPSY, won international acclaim for its portrait of an American Romani family battling a decade of drama.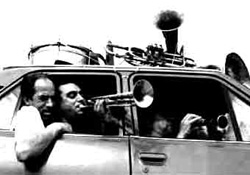 Cast:
Maharaja - Rajasthan (formerly, Musafir - India)
Antonio El Pipa and his flamenco ensemble - Spain 
Esma Redzepova - Macedonia 
Fanfare Ciocarlia - Romania
Taraf De Haïdouks - Romania
more.